INSTALL A NEW W/H: 50 GALLONS FOR $1295 & 40 GALLONS FOR $1235
A new water heater and basic installation up to code (new water supply lines,new earthquake straps and new gas line) included in this price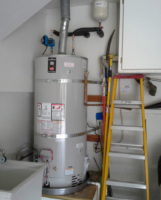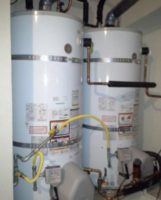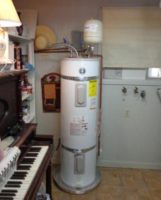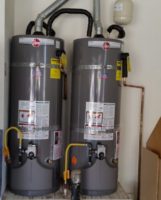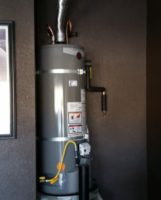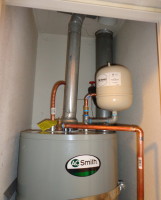 At Your Service
At Super Mario Plumbing, our goal is to install your new water heater in a seamless, efficient fashion. We offer a wide selection of makes and models, and we're happy to help you choose the option to best suit your space and your needs. When you hire us for water heater installation, you'll benefit from our courteous, professional plumbing contractors and reasonable rates. And we'll go out of our way to complete our work quickly without leaving a mess behind. When you need water heater installation in Saccramento, CA, Super Mario Plumbing is the team to trust. Call us today to schedule an appointment and discuss your options.
Storage Water Heaters
– heat and store water in a tank ranging in size from 20 to 100 gallons. They offer a ready reservoir of hot water, although " standby" energy losses are higher than with some other types. Conventional fuel sources include natural gas, electricity, propane, and fuel oil.
Heat pump water heaters
– are electric storage water heaters that are two to three times as efficient as conventional electric resistance units. Because they remove heat from the surrounding air, they are most effective in warm climates.
Tankless water heaters
– heat water directly without use of a storage tank. Tankless systems produce a limited amount of hot water – a 70F water temperature rise is possible at a flow rate of five gallons per minute through gas water heaters and two gallons per minute through electric water heaters. These are best suited for low – demand or remote applications.
Solar Water Heaters
– also called solar domestic hot water systems — can be a cost-effective way to generate hot water for your home. They can be used in any climate, and the fuel they use — sunshine — is free.
Direct Vent Water Heaters
– utilize a co-axial (pipe inside a pipe) vent pipe that takes air in from the outside (outer vent) and vents combustion gases directly back to the outside (outer vent). It is the perfect choice for situations with insufficient combustion air.
ADDITIONAL SERVICES OFFERED
Permit service fee
location of water heater ( basement , 2nd floor)
Relocation of water heater
Code compliance required up-grades
Conversion from gas to electric
Water Heater Services Sacramento
Aside from poor performance and high energy costs, many potential dangers can result from improper water heater installation. That's why choosing the right plumber can make all the difference. If you need a new water heater in Sacramento, CA, turn to Super Mario Plumbing to handle the job from start to finish.
STORAGE TANK WATER HEATER SELECTION
The lowest-priced water heater may be the most expensive to operate and maintain over its lifetime. And while an oversized unit may be alluring, it carries a higher purchase price and increased energy costs due to increased stand-by losses. Consider the following factors when buying a water heater: – Fuel availability, including natural gas, electricity, oil, and propane
– Cost – equipment, installation, and expected annual fuel cost
– Capability – system capacity, including first hour rating( FHR)
– Longevity – expected equipment life
– Safety, including possible combustion gas backdrafting concerns.

BUILDING PERMIT FEE FOR WATER HEATER REPLACEMENT:
BUILDING PERMIT FEE FOR WATER HEATER REPLACEMENT
City of Sacramento – $87.00
County of Sacramento- $88.00 // Apratment or Condo – $136
City of Citrus Heights – $90.60
City of Roseville – $111.06
City of Rocklin – $116
City of Elk Grove – $86.00
City of Rancho Cordova – $100.00
City of West Sacramento – $100.00
City of Davis – $76.52
City of Woodland – $35.00
Placer County- $111.40
El Dorado County- $115.00
City of Auburn – $47.50
Lincoln – $91.16
City Of Folsom- $130.50
Yolo County – $214.70
Galt– $81.50
Mobile Home – $196
Energy efficient water heating with 12 years warranty
Water heaters are the second highest source of energy usage in the home. A new ENERGY STAR certified gas storage water heater uses 8 percent less energy compared to standard gas storage models. Those energy savings add up to big savings for the environment by helping prevent climate change.
Rheem Performance Platinum 40 Gal.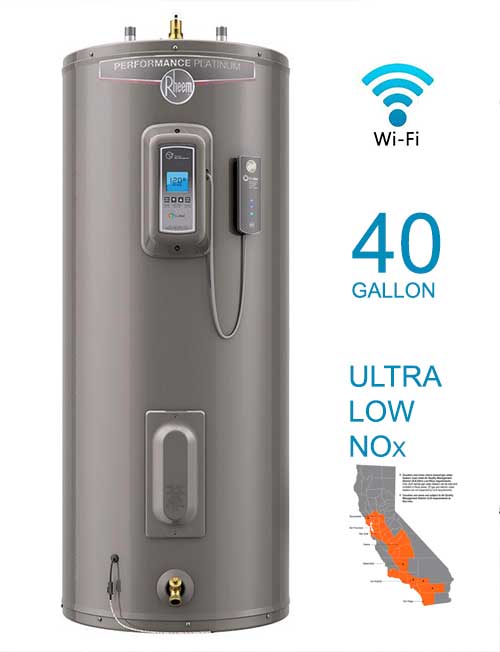 Complete Installation $1600
Rheem Performance Platinum 50 Gal.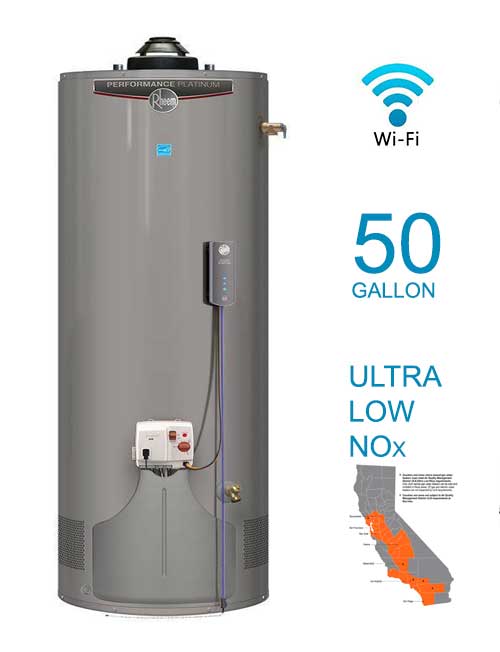 Complete Installation $1750
California Regulations